North Little Rock Fire Station #9
John F. Kennedy Blvd and Osage Drive - North Little Rock, AR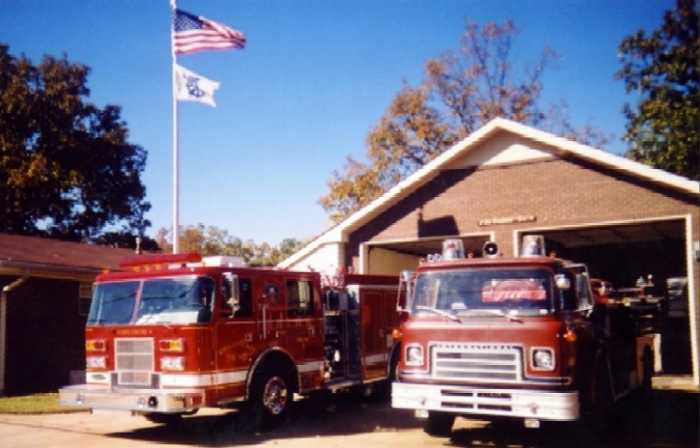 Apparatus Housed in NLRFD Station Number Nine

ENGINE 9
2001 PIERCE
CUSTOM
CONTENDER
1 Captain;
1 Lieutenant
and 1-2 Fire
Fighters.

Delivered new in 4/ 02; 1250 GPM Pump; 1000 Gallon Tank; High Compartments on left side; Booster Line on top; Side Mount Pump Panel; Trash Line in Front Bumper; Air Conditioned Cab: Deck Gun. Carries defilibrator.

RESERVE
ENGINE 103
1976 International/
American La
France
Ready to go in
service.
1000 GPM Pump; 500 Gallon Tank; Ready to go in
services if needed. This pumper has no crew cab.
CLICK HERE FOR MORE PICTURES OF THIS PIERCE PUMPER WHEN IT ARRIVED IN APRIL, 2002

Engine 9 -A Pierce Custom Contender 1250 GPM Pumper began its career as Engine 9 on April 19, 2002. This pumper has an interesting background. It was a official Daytona (Florida) Speedway Pumper. Pierce sends a few demos to the Daytona Speedway each year. More were sent to the Olympics in Utah. This pumper was purchased with only 400 miles on the odometer in March, 2002.

Reserve Engine 103 (Top picture) is a 1976 International/ American La France pumper with a 1000 GMP pump. The truck was originally Engine 9. It was later Reserve Engine 101 before becoming Reserve Eng. 103. It could still see service as a reserve. Ironically, the pumper is now stationed at the same NLRFD Station it began operating at: Station 9!



(Click on photo for larger view. )




(Click on photo for larger view.)

Photos by Lee Clark

Station 9, which opened in 1977 protects the Indian Hills area of North Little Rock. This includes several churches, schools and
large shopping centers. Engine 9 crews the crash truck if emergency circumstances at the nearby NLR Airport dictate. Engine 9
responds to all alarms at Mc Cain Mall, Lakewood Village and the surrounding area. Engine 9 is the second due pumper in much
of Engine 7's territory.
Interesting Facts About Station 9 and Company 9: Station 9 opened in early 1977. The original pumper at Station 9,
the 1976 International/American LaFrance, was one of three identical pumpers delivered in August, 1976. This pumper (Standby 103)
is the only one that still remains at the N.L.R.F.D. today. Station 9 was built in response to some homes in the Indian Hills addition that were more than the minimum distance that the ISO allowed from a Fire Station. The original pumper for Station 9 was stored at Fire
Station 2 on East Broadway after its arrival in August, 1976 until Station 9 opened. The pumper was put on display at Mc Cain Mall for Fire Prevention Week of 1976.