North Little Rock Fire Station #8
6550 Macarthur Drive - North Little Rock, AR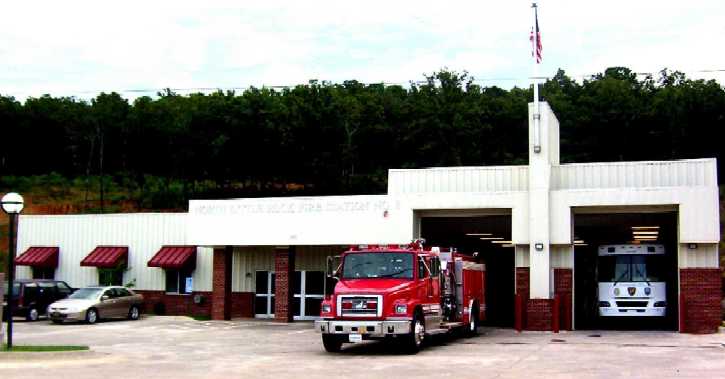 Apparatus Housed in NLRFD Station Number Eight
Engine 8

1

996 Smeal/Freightliner

1 Captain;
1 Lieutenant
and 1-2 Fire
Fighters.

Delivered new in 12/ 96; 1250 GPM Pump; 750 Gallon Tank; High Compartments on both sides; Booster Line on top; Top Mount Pump Panel; Trash Line on Right Side; Air Cond. Cab; Deck Gun. Carries defilibrator.

Command One

2004 Farber Specialty Vehicles/Winnebago
Mobile Command Center

Jointly used by NLRFD and NLRPD. Ready to Respond to any incident in NLR.

This apparatus contains a safe and secure place for incident commanders and city officials to work in the event of a major fire or emergency wituation in the city. The latest high-tech electronic equipment is on board with information readily available.
Engine 8, a 1250 GPM top-mount Smeal/ Freightliner pumper, marked the first pumper purchase by NLR which did not have a "flat nose" since 1955. Station 8 originally was opened at the same time as Station 7. Both of these stations had identical 1961 International / Central 750 GPM Pumpers as their first apparatus. (Both are pictured in the "On Line Fire Museum of NLR.")
Station 8'S territory includes the Amboy area of North Little Rock. As in most parts of the city, there are numerous houses, apartments and small businesses. There is Amboy Elementary School to protect as well as several churches. The recent annexation of a large tract of land on Highway 365 has extended Station 8's territory. Engine 4 is second due on this area.



Photos by Lee Clark Thanks to the Firefighters on Duty at Station 8 on 11-8-03 for their assistance in the photos.
Photos of Command Vehicle by Lee Clark 7-1-04
North Little Rock Old Fire Station 8
100 Auburn Drive - North Little Rock, AR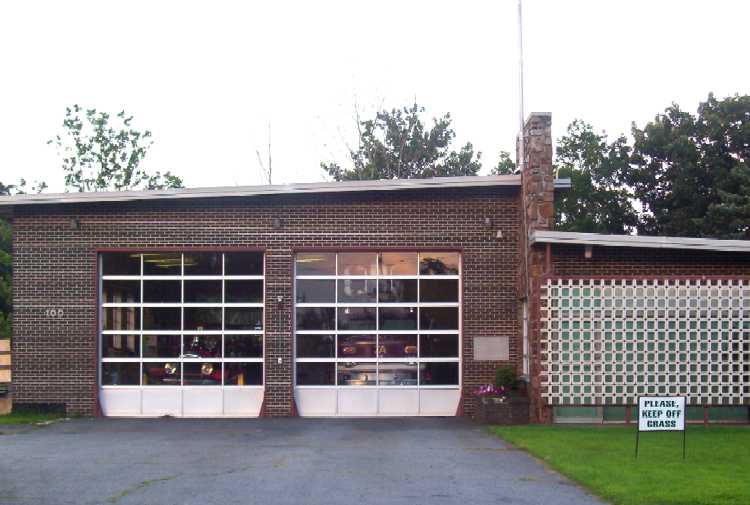 An interesting arrangement exists at the Original NLRFD Station Number 8. The building is still owned by the city. The area of the building where firefighters formerly lived and conducted business is is home to a Food Pantry. The Engine House is still used by the NLRFD to house Standby Aerial and Standby Engine 104.

Standby Aerial 1 is a 1975 American LaFrance 85' Snorkle. This apparatus was manufactured in May, 1975 and was featured on the cover of Fire Engineering Magazine. NLR had ordered a smaller snorkle, and decided to buy this truck when it became available from American LaFrance. The 1975 Snorkle was the first Diesel apparatus that the city owned, and was also the first pumper or aerial to have an automatic transmission. Its sole assignment was"Truck 7A" at Station 7. The apparatus was lettered "No 1A" when it arrived, but never saw service at Central. This was the second aerial truck purchased by the NLRFD.

Standby Engine 4, a 1959 American LaFrance pumper is the official "Parade Pumper" of the NLRFD. It was originally a 1000 GPM pumper, which saw service as Engine Co. 5, Engine Co. 3, Engine Co. 8, Standby Engine 101 and Standby Engine 103. Local 35'S 1931 Seagrave Pumper is currently housed at Old Station 8 as well. Old Station 8 affords the NLRFD a safe and secure place to store apparatus which is not immediately needed.
Standby Engine 104

1959

Amerian LaFrance

"Parade Pumper" of the NLRFD. Used for Parades and Special Occasions. The '59 LaFrance attained "Special Status" in 1995, when the decision was made to keep
the old pumper as part of the NLRFD'S Heritage.

Standby Aerial 1

1975 American
La France

Ready to go in service.

85' Articulating boom Full Compliment of Ground Ladders - Ready to go in Service when needed.



Standby Aerial 1 - a 1975 American La France

...........................Photo by Batallion Chief Lee Wilkins

The 1959 American LaFrance 1000 GPM as it appeared sometime in the
late 80's or early '90's. The '59 LaFrance was first assigned to Station 5,
where it remained until sometime after the ISO Inspection of 1963. The '59
then went to Station 3. In 1982, it was a reserve, but only briefly, and then
became Engine 8. In 1985 the pumper became Standby 101 when the 1985
Seagrave pumper arrived until the 1992 Pierce 1250 was put in service in
the summer of 1992. At that point, the '59 LaFrance became Standby
Engine 103. In February, 1995 two 1250 E-One Pumpers arrived. At that
time it was decided to keep the '59 American LaFrance on the roster.


Left: The Parade Pumper as it appears today. The topof the
pumepr was removed and major body work was performed
(including a new front panel). A superb quality paint job was
also applied to the old pumper.