NORTH LITTLE ROCK FIRE STATION #4
8723 Maumelle Blvd. No. Little Rock, AR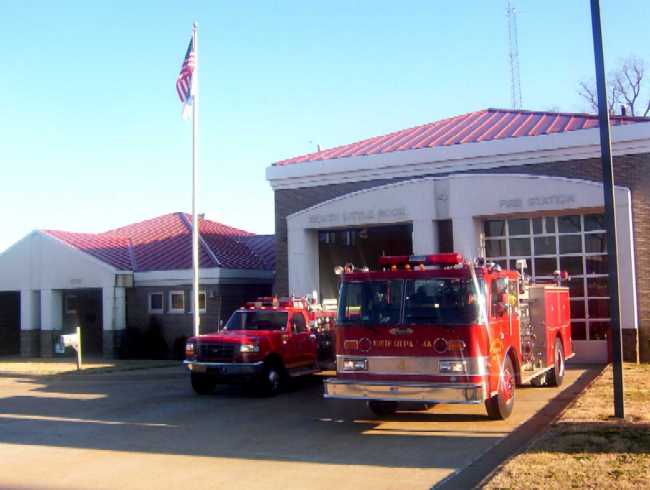 Station 4 serves as home to Engine 4, a 1987 Pierce Arrow Pumper and Rescue 18, a 1992 Ford/Central Light Rescue
Apparatus Housed in NLRFD Station Number Four

ENGINE 3

1992 PIERCE
ARROW
CUSTOM
1 Captain; 1 Lieutenant
and 1-2 Fire Fighters
Delivered new in 5/ 92; 1250 GPM Pump;
750 Gallon Tank; High Compartments on left side; Booster Line on top; Side Mount Pump Panel. Deck Gun. Carries defilibrator.
Rescue 18
1992 Ford/Central mini pumper/
light duty rescue
Engine 4 Crews
Rescue 18.
Rescue 18 carries extrication equipment for serious accidents on the two nearby interstate highways. Rescue 18 also has a boat for Arkansas River rescues since Station 4 is located close to the Arkansas River. Apparatus also has a pump which is driven by a separate two-cycle engine.

Engine 4 protects all of the industry , businesses, strip malls, and several schools in this fast-growing area of NLR. Station 4 is located on State Highway 100 just west of the junction of I-430 and State Highway 100. The second due Engine Company here is Station 8. In the event of a major extrication incident in the western end of the city, Rescue 18 (pictured below) could be driven to the scene by the firefighter on Engine 4.
Left: Engine 4- A 1987 Pierce Arrow Custom 1250 Pumper; Right: Rescue 18- A 1992 Ford/Central Light Rescue
The current Fire Station #4 opened in early 1993 to provide fire protection for the fast growing western portion of North Little Rock which borders Maumelle. The new Station 4 involved a reorganization of the NLRFD. The original Station 4, which was in Rose City,
was closed. Old Station 2 was also closed, and a new Station 2 was built further east on East Broadway. Rescue 80 was moved from Station 6 to Station 5 with a new rescue/ mini pumper. Engine 5 was decommissioned. The Captain from Engine 5 became the Captain on Truck 1A. Truck 1A had only a driver up until this point for many years.
The 1978 Ford/Pierce from Station 5 became Engine 4'S first apparatus at the New Station 4. Old Station 4'S (Rose City) International/ American La France became Reserve Engine 101. With the addition of the new 1992 Pierce Arrow at Station 1, all first line pumpers and ladder trucks in North Little Rock were Dieselized for the first time!