The Unofficial Website Of the North Little Rock, AR
FIRE DEPARTMENT
1904- 2004: 100 Years of Protection and Service To The City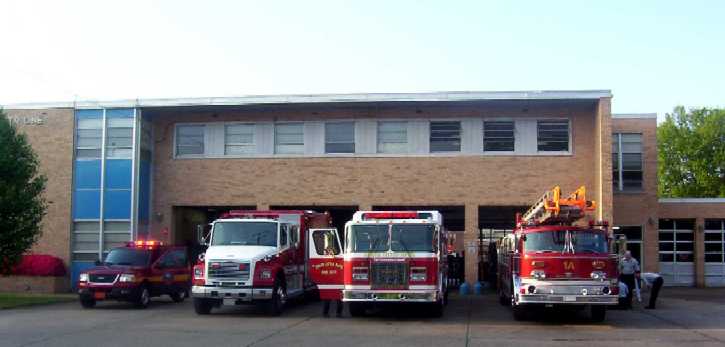 The First-Line Apparatus of NLRFD Central Station: Battalion 924; Rescue 19; Engine 1, and Truck 1A


Engine 1 - 1996 E-One
(Click to Enlarge)

Truck 1A - 1981 American LaFrance
(Click to Enlarge)

Battalion 924 - 2004 Expedition and
Rescue 19 - 1996 E-One/Freightliner
(Click to Enlarge)

Engine 1 In Action
(Click to Enlarge)

Equipment from Truck 1A is Examined
(Click to Enlarge)

Standby Engine 101 -
1981American LaFrance
(Click to Enlarge)
Apparatus Housed in NLRFD Station Number One (Central Station)
ENGINE 1
1996 E-ONE
Custom
1 Captain; 1
Lieutenant and
1-2 Fire
Fighters
Purchased new as a demo in 3/99; 1250 GPM
Pump; 750 Gallon Tank; High Compartments on
right and left sides; 200' Booster Line; Air
Conditioned; Top Mount Pump Panel; Ground
Ladders on Top. Carries defilibrator and large
diameter hose; Deck Gun.
TRUCK 1A

1981 American
La France
1 Captain;
1 Lieutenant and up to 1 Fire Fighter
Purchased new in 1982; Rear Mount 100' Ladder;
Full Compliment of Ground Ladders, Fans, Water
Vacuum, Power Saws, etc.Carries defilibrator
RESCUE 19


2001 E-One/ Freightliner

Paramedic Unit
1 Capt.;1 Lieut.
and up to 1 Fire Fighter. At least 1 Paramedic always on crew.

Heavy Duty Rescue-All Power Tools; Jaws of Life;
Rope Rescue; On-Board Cascade System to
Manufacture Air for SCBA; Paramedic Unit- at
least 1 paramedic on board; 35' Light Tower.
Carries defilibrator. Apparatus arrived at NLRFD
on November 1, 2001.

BATTALION 924

2004 Ford
Expedition
1 Battalion Chief
plus the Shift
Training
Officer at night.
Battalion 924 is the Battalion Chief for the
entire city.
STANDBY ENGINE 101

1981

American La
France

Purchased new in 1982; Originally Engine 7;
became Engine 9 in 1995; became Engine 101
in 2002. 500 Gallon Tank; 1500 GPM Pump. Is
fully equipped and ready to go in service.

NLRFD CENTRAL STATION:
Central Station also houses the administrative offices of the NLRFD, along with the mechanical facilities. The Chief of Department, Assistant Chief, and other administrative officers including the Training Captain and Admistrative Captain of the Department are housed here. Business with the citizens of the City is conducted here.

Engine 1'S District includes Downtown North Little Rock. The largest structure in this District is the new Alltel Arena. Most of the buildings downtown are quite old. The commercial buildings are mostly two story structures. Any vehicle accident on I-30 or nearby I-40 results in Engine 1 being dispatched. Engine 1'S territory extends north to 22nd Street, east to Buckeye Street. Engine 1's territory borders Engine 3's District on its western boundary.

Truck 1A protects the area of the city South of I-30. This apparatus responds to all structure fires in this part of the city. It can be special called to other areas of the city if it is needed.

Rescue 19'S District is approximately the same as Truck 1A'S, except that Rescue 19 goes only as far North as 22nd Street. Rescue 19 responds on all structure fires in its district as well as all vehicle accidents in its district. Rescue 19, with its huge light tower and on-board air cascade system will most likely be called to any major fire in the southern portion of the city.
Interesting Facts About NLRFD Central Fire Station:
The present Station 1 is the second structure used as NLR'S Central
Fire Station. The original structure still stands in the 500 Block of Main Street and is completely rebuilt by the city. It contains
an "engine room" on the first floor where a fire engine can be parked. (Hopefully an antique.)

Interesting Facts About Engine 1:
Engine 1 was obviously the first Company formed in the NLRFD. It originally operated
on a horse-drawn hose wagon. Its first motorized apparatus was a 1917 American La France. Company 1 was the "Reserve
Pumper" according to the 1947 Underwriters' Report. Company 1 again became the Primary Engine Company at Central again
after Station 4 in Rose City opened in 1949. The pumper running out of Central then became Company 1, with the reserve engine
being renumbered. (Co's 7 and 8 were reserve pumper designations until Engines 7 and 8 were commissioned. Engine 1 carried
all "extra" firemen on duty during a given day for many years.On days when nobody was sick or off, Engine 1 might be seen with
as many as seven firemen on board.
Interesting Facts About Truck 1A: Truck 1A was originally designated "Company 5" and was formed with the arrival of a
Seagrave Ladder Truck in February, 1947. The original truck had a 65' Aerial Ladder and a 250 GPM Pump. It also had a booster
tank of 150 gallon capacity. Company 5 became Company 1A in the early 1950's. The Company has operated on only two vehicles
in its entire history. The present apparatus is a 1981 American La France 100' Rear Mount Aerial. It was delivered new in 1982.
This was the first 100' Aerial owned by the NLRFD.


Interesting Facts About Rescue 19: Rescue 19 was formed in 1963 as a result of the Nation's Civil Defense Concerns
during the Cold War. It's first vehicle (a 1963 Jeep Wagoneer) even had the "CD" emblem on the side. Rescue Company 19
received it number designation, because it was the "next available number." Fourteen was the number of the District Chief's car.
Seventeen was the mechanic's vehicle and Eighteen was a car used by the Instructor or Training Office.


Sound Control For This Page